Arkai is a multipurpose, modern and minimal ghost blogging theme specially designed for Magazine, Blog for personal. It is a totally new design, extreme features and supported all the features of Ghost 5.x. This theme is built with SASS, Handlebars, and a lot of options. This is a fully responsive, hand coded and fully translation ready theme.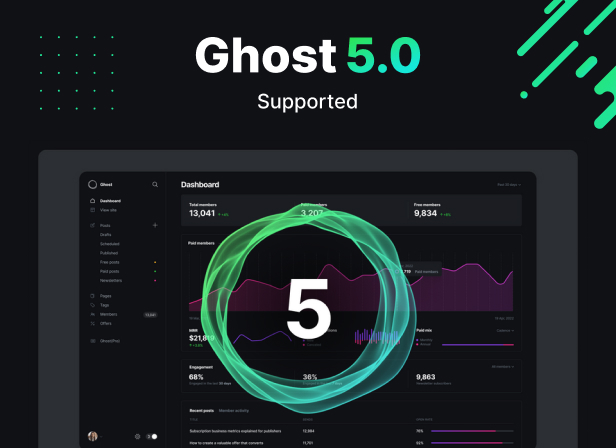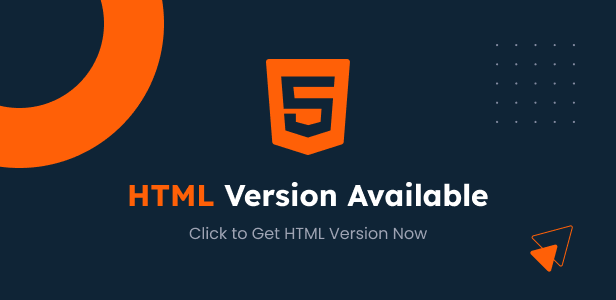 Features:
Dark and Light version
Ghost 5.x compatible
Modern and Minimal design
Publication title and description.
Navigation.
11 color variants
Grid layouts
Custom page supports
Language supports
3 column layout
Real Time search
2 footer variants
Right sidebar
Blog page support for posts
Portfolio page
3 contact page layouts
Eye-catching 404 page design
Tag list page
Author list page
Style guide
Multi-column post
Multi-row post
Featured slider for featured posts
Related posts
Load more buttons
Social icons
Social post share
Gallery posts
Bookmark style
Tweeter feed
NFT Card
Header Card
Product Card
Callout Card
Toggle Card
Audio, Video, File Card
Custom Settings added
Membership Tiers support
Ghost Native Comments
Ghost Native Search
Multiple fonts added
Table of contents added
Post Colors:
purple
azure
nevy
blue
carrot
grape
violet
pink
rosepink
space
lightgray
Layouts
Lots of blog layouts to choose from. All work with or without the featured slider and sidebar.
Featured posts
Grid posts
Full posts
Excerpt posts
Grid portfolio posts
Members & subscriptions
Payment testing
Genuine card information cannot be used in test mode. Instead, use any of the following test card numbers.
Includes
Documentation and Theme files
Access to our help center and email support
Tested on:
Credits:

------------  VERSION – 4.5.1: Release on 09 July 2023  ------------
* ADDED: FX Light box image popup feature
* FIXED: Image height issues for post page
* Removed all deprecated code
* Small css issues fixed and improvement performance

[+] CHANGED FILES
    assets/css/style.css
    .github/workflows/deploy-theme.yml
    partials/featured-slider.hbs
    partials/post-card.hbs
    partials/icons/dots.hbs
    partials/footer.hbs
    custom-authors.hbs
    custom-post-left-sidebar.hbs
    custom-post-no-sidebar.hbs
    custom-post-right-sidebar.hbs
    custom-post-with-table-of-content.hbs
    custom-tags.hbs
    post.hbs
    tag.hbs
    page.hbs
    package.json

[-] REMOVED FILES:
    partials/comments/cove-comments.hbs
    partials/comments/disqus-comments.hbs


------------  VERSION – 4.5.0: Release on 13 November 2022  ------------
* ADDED: Multiple fonts support
* ADDED: Table of contents added
* FIXED: Dark Light issues fixed for dark devices
* Small css issues fixed

[+] CHANGED FILES
    assets/css/style.css                 
    assets/css/style.css.map             
    assets/js/plugins.js                 
    assets/scss/_author.scss             
    assets/scss/_blog.scss               
    assets/scss/_component.scss          
    assets/scss/_content.scss            
    assets/scss/_dark-version.scss       
    assets/scss/_footer.scss             
    assets/scss/_gallery.scss            
    assets/scss/_membership.scss         
    assets/scss/_post.scss               
    assets/scss/_reset.scss              
    assets/scss/_responsive.scss         
    assets/scss/_search.scss             
    assets/scss/_signin.scss             
    assets/scss/_tags.scss               
    assets/scss/_variables.scss          
    custom-post-left-sidebar.hbs         
    custom-post-no-sidebar.hbs           
    custom-post-right-sidebar.hbs        
    custom-post-with-table-of-content.hbs
    default.hbs                          
    error.hbs                            
    package.json                         
    partials/comments/cove-comments.hbs  
    partials/comments/native-comments.hbs
    partials/home/post-grid.hbs          
    partials/navigation.hbs              
    partials/post-content.hbs            
    partials/post-navigation.hbs         
    partials/postcard.hbs                
    partials/related_posts.hbs           
    post.hbs                             
    tag.hbs     

[+] ADDED FILES:
    partials/google-fonts.hbs


------------  VERSION – 4.4.0: Release on 23 August 2022  ------------
* ADDED: Ghost Native Comment Support
* ADDED: Ghost Native Search Support
* ADDED: Contact form endpoint option in dashboard
* FIXED: Logo issues fixed
* Small css issues fixed

[+] CHANGED FILES
    assets/css/style.css
    assets/scss/_post.scss
    assets/scss/_content.scss
    assets/scss/_responsive.scss
    assets/scss/_variables.scss
    assets/scss/_header.scss
    assets/js/scripts.js
    partials/contact-form.hbs
    partials/footer.hbs
    partials/header.hbs
    partials/post-content.hbs
    partials/header.hbs
    partials/comments.hbs → partials/comments/cove-comments.hbs
    partials/disqus/comment-box.hbs → partials/comments/disqus-comments.hbs
    default.hbs
    package.json
    post.hbs
    locales/en.json

[+] ADDED FILES:
    partials/comments/native-comments.hbs


------------  VERSION – 4.3.0: Release on 09 June 2022  ------------
* Added Support for Ghost 5.0
* Removed all deprecated code
* Small css issues fixed
* Updated English translation file

[+] CHANGED FILES
    assets/scss/_membership.scss
    assets/css/style.css
    custom-membership.hbs
    custom-account.hbs
    default.hbs
    package.json
    partials/members/pricing-tables/pricing-free.hbs
    partials/members/pricing-tables/pricing-monthly.hbs
    partials/members/pricing-tables/pricing-yearly.hbs
    locales/en.json


------------  VERSION – 4.1.0: Release on 06 Mar 2022  ------------
* Added new feature:
    - color scheme dark and light mode
    - dark mode logo
    - search API key input box
    - post layout
    - comment option disqus & cove added
    - social link instagram & linkedin input box
    - pagination or load more select option
    - featured posts slider on/off option
    - related posts title text change option
. Mejor changes on style section style.css and style.scss
. Updated deprecated functions
. Small bug fixes and performance improvements

CHANGED FILES
[+] style.css (All css file)
[+] style.scss (All scss file)
[+] default.hbs
[+] index.hbs
[+] post.hbs
[+] account.hbs
[+] author.hbs
[+] tag.hbs
[+] custom-blog.hbs
[+] custom-post-with-sidebar.hbs
[+] package.json
[+] partials/header.hbs
[+] partials/postcard.hbs
[+] partials/post-loop.hbs
[+] partials/related_posts.hbs
[+] partials/members/paid-post-box.hbs
[+] partials/disqus/comment-box.hbs
[+] partials/pagination.hbs
[+] partials/footer.hbs
[+] assets/js/scripts.js

NEW ADDED FIELS
[+] assets/scss/_cove.scss
[+] custom-subscribe.hbs
[+] partials/logo.hbs
[+] partials/icons/social-icons/map.hbs
[+] partials/home/post-by-category.hbs
[+] partials/home/post-grid.hbs
[+] partials/home/post-with-sidebar.hbs
[+] partials/post-content.hbs
[+] partials/comments.hbs


------------  VERSION - 4.0.0: Release on 05 Jun 2021  ------------
. Compatible with ghost version 4.0
. Added support for public preview posts for members only posts
. Support for new price plan helper
. Updated deprecated functions
. Small bug fixes and performance improvements

CHANGED FILES
[+] default.hbs
[+] account.hbs
[+] partials/navigation.hbs
[+] partials/members/pricing-tables/pricing-free.hbs
[+] partials/members/pricing-tables/pricing-monthly.hbs
[+] partials/members/pricing-tables/pricing-yearly.hbs
[+] partials/members/subscriber-information.hbs
[+] partials/sidebar/sidebar-subscribe.hbs
[+] package.json


------------  3.1.0: Release on 13 Jan 2021   ------------

CHANGED FILES
[+] Dark Version added
[+] _variables.scss
[+] All SCSS files
[+] package.json
[+] default.hbs
[+] index.hbs
[+] post.hbs
[+] page.hbs
[+] subscribe.hbs
[+] account.hbs
[+] author.hbs
[+] error.hbs
[+] error-404.hbs
[+] custom-authors.hbs
[+] custom-tags.hbs
[+] signin.hbs
[+] signup.hbs
[+] tag.hbs
[+] partials/footer.hbs
[+] partials/logo.hbs
[+] partials/author-card.hbs
[+] assets/img/logo/logo-white.png
[+] assets/img/logo/logo.png
[+] scripts.js
[+] locales/en.json

ADDED NEW FILES
[+] partials/icons/moon.hbs
[+] partials/icons/sun.hbs
[+] partials/members/free-subscriber-information.hbs
[+] partials/members/subscriber-information.hbs
[+] partials/members/notification.hbs
[+] partials/members/visibility-content.hbs
[+] partials/members/pricing-tables/plan-free.hbs
[+] partials/members/pricing-tables/plan-monthly.hbs
[+] partials/members/pricing-tables/plan-yearly.hbs
[+] partials/sidebar/popular-author.hbs
[+] partials/sidebar/popular-posts.hbs
[+] partials/sidebar/popular-tags.hbs
[+] partials/sidebar/popular-subscribe.hbs
[+] partials/sidebar/share-post.hbs
[+] partials/disqus-comment.hbs
[+] _dark-version.scss


------------  VERSION – 1.0.0: Release on 13 April 2019  ------------

[+] Initial Release